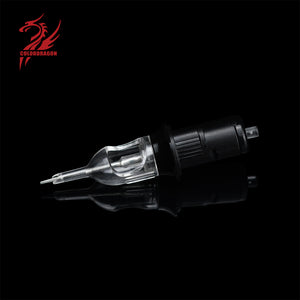 Colordragon Cartridge Needles 08# Bugpin Round Liner
Colordragon Cartridge Tattoo Needles 08#(0.25mm) Bugpin Round Liner, 20pcs/box
-Accurate ink pick up and clean lining.
-No splash, no spit, no shaking and no ink leak.
-More ink hold and perfect ink flow.
-Medical grade materials and sterile blister pack with EO gas sterilized.
-Membrane system and 20pcs in a box.
1, Easy To Use:
Ultra Long and straight tip design ensures accurate ink pick up, more ink, perfect ink flow and easy clean.
The down-stroke silicome membrane ensures no splash, no spit, no shaking and no ink leak.
2, Consistency:
The CNC-machined mold guarantees the consistency of needle tapers and precision cartridge parts assembly ensures the same feeling for every tattooing.
3, Pro Technical Team Support:
Many tattoo masters from Europe, America, Japan and South Korea, etc. are invited as the technical team to control the design and the quality of our brand.
4, Medical Material:
Needles made with Japanese medical stainless steel and plastic part with medical plastic PC.
They brings more hardness and long-term stability, which run smoothly.
5, Package&Body Design:
The needle body design by ergonomic, make sure non-slipery and anti-rotation.
Medical class individual sterile blister pack and ethylene oxide (EO) gas sterilized.
Come with 20 pieces in a box.

Round liner and Round shader Needles taper diameter and length list:

Size           Diameter         Style        Length
08XXRL     08# 0.25mm    Bugpin    5.5mm
10XXRLT   10# 0.30mm    Bugpin    6.5mm
12XXRL     12# 0.35mm    Regular   5.5mm
12XXRLT   12# 0.35mm    Tight       7.5mm
08XXRS     08# 0.25mm   Bugpin    2.0mm
10XXRS    10# 0.30mm    Bugpin    2.0mm
12XXRS    12# 0.35mm    Regular   2.0mm
Perfect
Perfect and clean lines
You don't need to get every second the ink , Thanks to the tank
Not sure about the 3 liners yet.....
Still trying to figure out the 3m liners but the 5 bugpins are the perfect size AI have been searching for.
Great quality
These cartridges are mind blowing for the price. Saw them on an add thru Instagram and ordered with a few others in the shop. Good ink flow, the ability to hang a liner out far as you want without a hiccup. Stable and effortless lines.
Precise application and great for Fineline
These needles are great to use, they don't have nearly as much ink spill as the other needles my shop prefers. I also feel like the needles work better in terms of punching ink into the skin, again, the needle company my shop uses give me issues constantly.
Finally, Color Dragon actually keeps these bugpin needles in stock, and don't make "ordering and manufacturing errors that will cause 3 month delays." I was already using this company for many of my shaders and mags, but I'm completely converting over since the other company has screwed up royally on keeping needles in stock. I can't wait 3 months for needles we constantly use for clients.
overall fantastic bugpins for small details and Fineline work
08 bugpin round liner
Is amazing for making textures