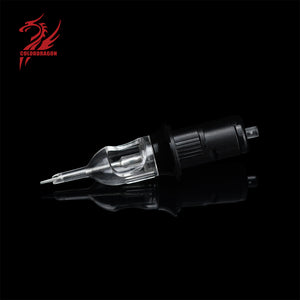 Colordragon Cartridge Needles 12# Tight Round Liner
Colordragon Cartridge Tattoo Needles 12#(0.35mm) Tight Round Liner, 20pcs/box
-Accurate ink pick up and clean lining.
-No splash, no spit, no shaking and no ink leak.
-More ink hold and perfect ink flow.
-Medical grade materials and sterile blister pack with EO gas sterilized.
-Membrane system and 20pcs in a box.
1, Easy To Use:
Ultra Long and straight tip design ensures accurate ink pick up, more ink, perfect ink flow and easy clean.
The down-stroke silicome membrane ensures no splash, no spit, no shaking and no ink leak.
2, Consistency:
The CNC-machined mold guarantees the consistency of needle tapers and precision cartridge parts assembly ensures the same feeling for every tattooing.
3, Pro Technical Team Support:
Many tattoo masters from Europe, America, Japan and South Korea, etc. are invited as the technical team to control the design and the quality of our brand.
4, Medical Material:
Needles made with Japanese medical stainless steel and plastic part with medical plastic PC.
They brings more hardness and long-term stability, which run smoothly.
5, Package&Body Design:
The needle body design by ergonomic, make sure non-slipery and anti-rotation.
Medical class individual sterile blister pack and ethylene oxide (EO) gas sterilized.
Come with 20 pieces in a box.
Round liner and Round shader Needles taper diameter and length list:
Size           Diameter         Style        Length
08XXRL     08# 0.25mm    Bugpin    5.5mm
10XXRLT   10# 0.30mm    Bugpin    6.5mm
12XXRL     12# 0.35mm    Regular   5.5mm
12XXRLT   12# 0.35mm    Tight       7.5mm
08XXRS     08# 0.25mm   Bugpin    2.0mm
10XXRS    10# 0.30mm    Bugpin    2.0mm
12XXRS    12# 0.35mm    Regular   2.0mm
Ordered these to try at my studio
Absolutely great product, I think my studio has found the go to brand to use. Very well made, precise and make tattooing effortless. Thank you so much for making these!
12# tight round liner
It is the perfect needle to make solid and straight lines. I love these cartridges because they are perfect for all types of tattoos.